Professional Imaging and Matt Kloskowski
monday 14 March 2011, 00:21 by Elja Trum | 3082 times read | 0 comments
Today I visited a local photography event called Professional Imaging. It's a free event aimed at professional photographers in the Netherlands and worth a visit. There are a lot of photography products you can try and whole day long there are several workshops to follow. The keynote speaker at the Adobe booth was Matt Kloskowski.

If you don't know Matt, you're missing out on some great tutorials. Matt is one of the Photoshop Guys from Kelby Training and has published several books, videos and classes. He also runs the very useful site Lightroom Killer Tips.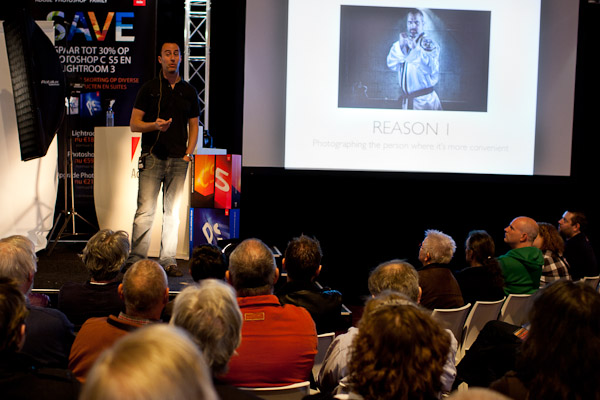 His keynote at the event was about compositing and selections in Photoshop. After a short introduction and some example images he went on to a live shoot on stage of a hockey girl. After taking some shots he loaded those images into Lightroom and selected one for editing.
He showed how to take two images, the girl on a grey studio background and a picture he took earlier of a playing field nearby, and put the girl into the field. To do this he used several techniques and utilised a lot of different Photoshop layers and selections. Great to see how to different photos and up being one good looking final image! Later that day Matt did another workshop on portrait retouching.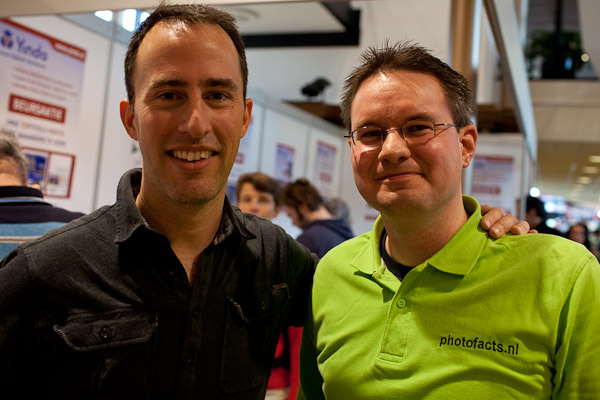 After his workshops Matt signed his Layers book in the booth of a online bookstore. I couldn't resist to get a signed copy of his book, altough I already had a copy at home. He was kind enough to let me get a picture of the both of us too.
If you ever get the chance to attent to one of his workshops, I'd recommend to do so!
There are no comments on this article.
Be the first to share your insights!
Share your insights
Please note:
Articles older than a week can only be commented on by registered users.
Do you want to leave your insights?
Register
for free.
Elja Trum
Photofacts; everything photography!
Would you like to be able to take better pictures? Photofacts writes about photography and on how to become a better photographer daily. From quick usefull tips to reviews and more...
More about Photofacts