Turn your iPhone into a retro camera
thursday 5 January 2012, 19:48 by Elja Trum | 3703 times read | 0 comments
The Apple iPhone is often used as camera, but taking pictures with your phone doesn't look all that professional. The Gizmon iCA case offers a solution to this problem; it adds the look of a retro camera to your iPhone.



The cases are available in three colours; white, black and brown. In the corner you'll find an opening for you actual iPhone lens and LED-flash. Gizmon sells optional lenses also to adjust the image with an wide-angle, fish-eye, tele or other type of lens.
The Gizmon iCA case is suited for the iPhone 4 and the iPhone 4S. You can still use all the buttons and functions of your iPhone. You can use any application you would normally use to take the photos, but I'd recommend an app which uses a retro look like
Hipstamatic
. Just to match it up.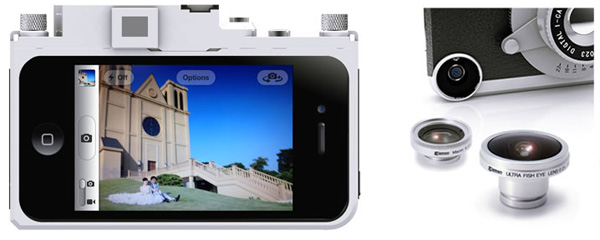 The case, that also adds any 'optical viewfinder' to you iPhone, will be sold for 65 dollar.
There are no comments on this article.
Be the first to share your insights!
Share your insights
Please note:
Articles older than a week can only be commented on by registered users.
Do you want to leave your insights?
Register
for free.
Show all articles from Fun
Elja Trum
Photofacts; everything photography!
Would you like to be able to take better pictures? Photofacts writes about photography and on how to become a better photographer daily. From quick usefull tips to reviews and more...
More about Photofacts