Photosynth; create 360 degrees pano's with the iPhone
wednesday 20 April 2011, 08:32 by Elja Trum | 3216 times read | 0 comments
Microsoft released their Photosynth application for the iPhone. Using the build in camera you can now easily create complete 360 degrees panoramas using only your phone. The app also makes it easy to share the interactive photos.

Initially Photosynth started as a program that had an unique way to combine several photos of the same subject into something called a 'synth'. Unfortunately the new iPhone app doesn't do this. It does create excellent 360 degree panoramas.

The rendering of the panorama is done completely on the iPhone. You won't need an internet connection to create or view the 360 panorama. When you're satisfied with the result you can share the panorama via Facebook, Bing Maps or the Photosynth site.

When you create a panorama you'll see a preview of the end result. The app automatically takes photos when you've started it. All you have to do is turn the iPhone around to record all around you. To get a good final image it will require some practice.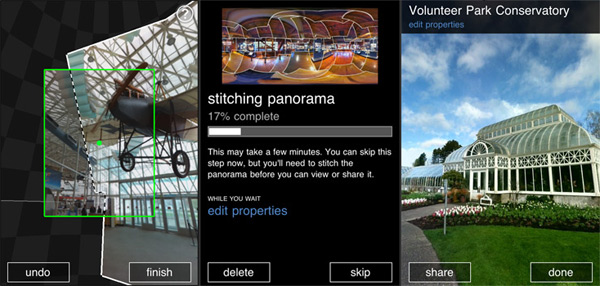 The app is available for use on the iPhone and the iPad 2 and can be
downloaded here
for free. It's a bit strange that Microsoft didn't release this app for their own Windows phone yet.
There are no comments on this article.
Be the first to share your insights!
Share your insights
Please note:
Articles older than a week can only be commented on by registered users.
Do you want to leave your insights?
Register
for free.
Elja Trum
Photofacts; everything photography!
Would you like to be able to take better pictures? Photofacts writes about photography and on how to become a better photographer daily. From quick usefull tips to reviews and more...
More about Photofacts