Show your lighting setups (free PSD)
tuesday 16 September 2014, 21:19 by Elja Trum | 13717 times read | 0 comments
If you would like to show another photographer how you did a specific lighting setup you can draw it on the back of an envelope you happen to have nearby. That doesn't make you look very professional of course. That's why Photofacts released a free Photoshop file (PSD) to show your lighting setups in a quick and professional looking way.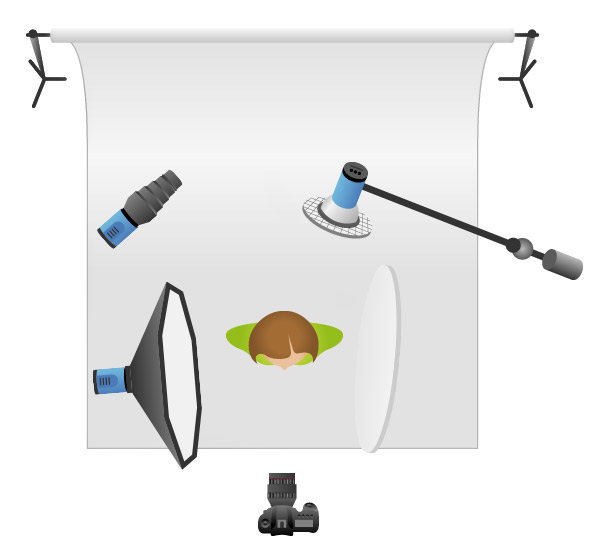 In the file you can find commonly used studio items. They all have their own layer so you can simple move and rotate them into the desired position. A quick and easy way to show others you setups.
The PSD is based on other versions that can be found on the internet, but a big advantage of my version is that all items are vector based. This means you can resize them to any size you'd like to use without losing quality. Also, we've added some new items we didn't find in the other versions online.
Terms of use
You can download and use the PSD free for commercial and non-commercial uses. There is one condition: name Photofacts as the source of the studio setups you create. Either by leaving the 'provided by Photofacts' logo that is included or link to Photofacts in your article (or book, or whatever kind of publication).
»
Download the Lighting Setup PSD
You'll need Photoshop to work with the PSD file. In case you don't have to much experience with these kinds of files, check out my short tutorial below.
Any additions?
Is there anything you're missing in the studio setup file?
Please let me know, and I'll try to add it.
There are no comments on this article.
Be the first to share your insights!
Share your insights
Please note:
Articles older than a week can only be commented on by registered users.
Do you want to leave your insights?
Register
for free.
Elja Trum
Photofacts; everything photography!
Would you like to be able to take better pictures? Photofacts writes about photography and on how to become a better photographer daily. From quick usefull tips to reviews and more...
More about Photofacts