eBook review: Growing the Visionmonger 2
monday 6 May 2013, 13:39 by Sarah Jo Coryell | 3807 times read | 0 comments
Every good photographer needs a little extra help now and then. A fresh perspective and a new approach to doing photography can help you feel rejuvenated and refreshed. Taking a new look on the same ole same ole can help reinvigorate you and your work.

Sometimes getting advice and tips from other professionals can go a long way, and that is where great trade publications, magazines, and guides can really come in handy.

One such guide is the 'Growing the Visionmonger 2 - A kick-Ass Guide For The Photographic Entrepreneur' produced by Corwin Hiebert. This 65 page guide is packed full of helpful tips, stories, advice, guides, and knowhow from many photographers who have been there and done that.

Specifically designed with the working photographer in mind, the variety of topics covered in this compact booklet is as prolific as the individuals who could benefit from it.


There are helpful articles dealing with issues such as marketing, freelance work, collaboration and networking, and business tips. You can find advice on 'Making the most of your social networks', 'Find a 'free' client', and how to 'Brand your business for buyers.'
These topics are full of advice from professionals and veteran photographers who have gone through the ropes and know the ins and outs of the business. Any photographer can gain valuable knowledge from these articles.
Another great feature is the Q&A sections featuring several great photographers. In this guide you can gain first hand advice and tips from great names like Jay Goodrich, Carlo Ricci, Ted Thomas, Alfonso Calero, Bryan Traylor, Greta Rybus, Francesco Ridoifi, Dan Bannister, Joe Schmelzer, Justin Keitch, Chris Langer, and Javi Aguilar.
Each featured photographer has wonderful advice that even the most seasoned and experienced photographer can learn from. There is something for everyone in these interviews. Carlo Ricci has this pearl of wisdom to offer that I found to be very insightful and true.
Do not 'under price or under value your work or services. Better to lose ten bad clients and gain one very good one'. This is so very true and I think it is something that we all need to be reminded of from time to time. We get so caught up in the desire to get exposure and get clients that we can under sell and short change ourselves and take less than ideal clients in order to just get the work and exposure.
Greta Rybus
Greta Rybus offered this pearl of wisdom to all photographers, regardless of their experience and focus: 'Always have a personal project you love working on'. I have found this to be very true in my own work. I can do shoots and photography work nonstop and be making money but I will not be happy.
They joy slowly fades and I begin to see the jobs as just that- jobs. To keep my mind fresh and my creative juices flowing, I always have at least one small project I am working on during my other shoots. This can be something as simple as the quick and easy one photo a day challenges, which I have done many times.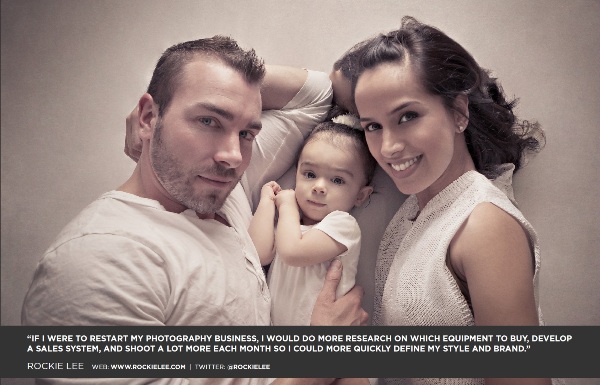 Javi Aguilar
Javi Aguilar responds to the question of if he would do anything different if he could go back to when he was first starting his photography business with this: 'Learn more about business management before starting a business'. This is a great piece of advice because even the best intentions can fall through.
Having a solid plan and a solid back up plan is a great way to protect yourself and your family as well as your investments. There is always a risk involved with starting a business but the photography business is especially fluid and there are times of plenty and time of need. Having a firm plan in place can help you make the most of the good times and make it through the bad times.
This guide is absolutely packed with tips and advice like this. Every page is bursting with knowledge that can be taken and easily applied to your own photography, regardless of what genre or focus you have. Take your work to the next level; learn insider tips for marketing, networking, and photo shoots.
'Growing the Visionmonger 2' is a great guide to have on hand and is a useful tool for photographers everywhere.
»
Buy here
(5 dollar)
About the author
An avid but beginner photographer, Sarah Jo Coryell has years of hands on experience in photography. Having traveled extensively across the United States, and in four other countries, her camera is always with her. Finding the beauty in the world and the extra ordinary in the everyday is what inspires her photography.
There are no comments on this article.
Be the first to share your insights!
Share your insights
Please note:
Articles older than a week can only be commented on by registered users.
Do you want to leave your insights?
Register
for free.
Elja Trum
Photofacts; everything photography!
Would you like to be able to take better pictures? Photofacts writes about photography and on how to become a better photographer daily. From quick usefull tips to reviews and more...
More about Photofacts