How to: abstract soap film photography
friday 4 March 2016, 09:09 by Ellen Reus | 6302 times read | 0 comments
The shooting of soap film gives beautiful abstract results. Colors that mingle in a constantly changing pattern. Until… your film breaks.

And this happens sooner than you think, so it is good to know exactly what you have to do so you can spend all the time that you have on making great photos. Here's a tutorial, so you can get to work right away after you have read it.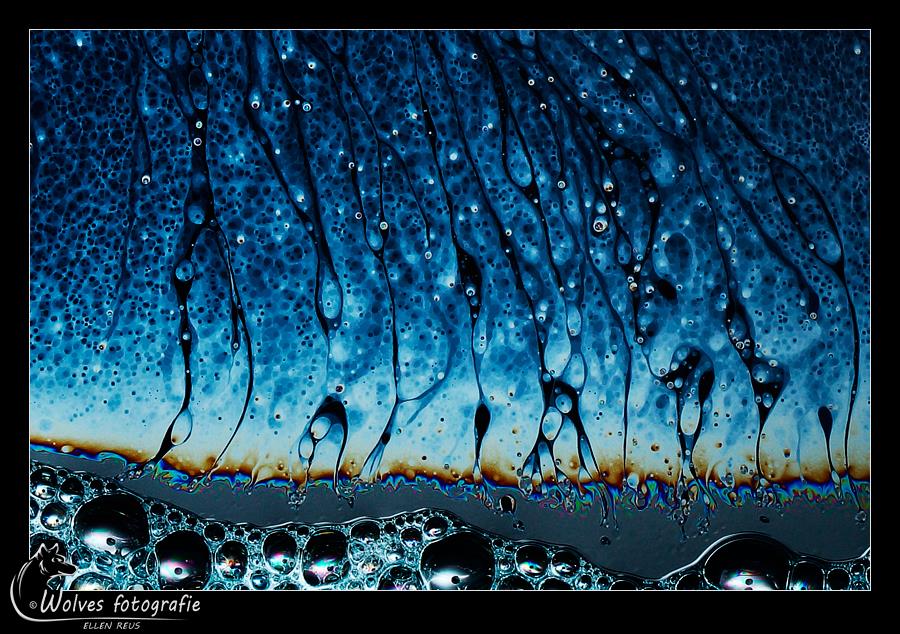 Ingredients
Here is a list of supplies that you will need to photograph soap film:
• Camera with macro lens (if you don't have a macro lens, you can use a different lens, a zoom lens being the best alternative);
• Cable release or remote control (not really necessary, but easy);
• Tripod;
• Small flash (preferably two of them, but you can also use one);
• Trigger set for small flashes;
• Electrical wire;
• A tray;
• Detergent;
• Optional: glycerin;
• Tap water;
• Spoon (for stirring your soapy water);
• Black background;
• Background tripod (or something else to attach your background paper to);
• White paper;
• Two pieces of rope (to hang your framework with);
• Lamp stand with reflector holder (or something else to hang your framework on);
• A table (or something like it) to place your setup on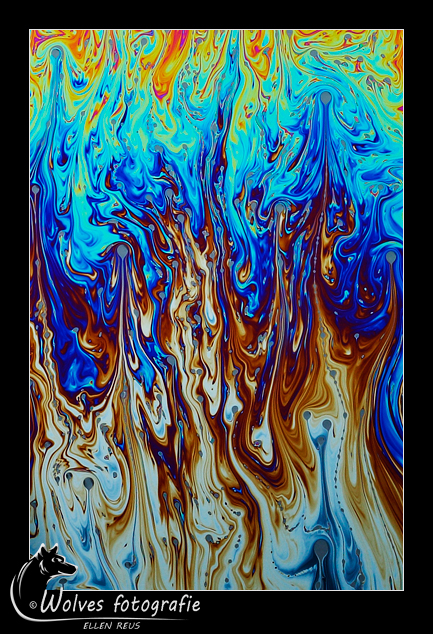 Preparation
The preparation consists of three steps:
1. You create a framework in which you create your soap film
This framework functions as a standard for your soap film. I used electrical wire to create the framework, because this is easy to shape. Bend the wire so you get a rectangle and curl both ends of the wire up, so that your rectangle is closed.

2. You create soapy water
Simply use some tap water and mix it with a big splash of detergent. If you have it, you could add glycerin to this mixture, so your soap film will last longer without breaking.

Glycerin is not something that I just happen to have at home, so I did it without the glycerin and accepted the fact that I can only shoot a few pictures of each soap film. You create the mixture in a tray that is easily large enough to fit your framework in. Stir it up, so that the detergent dissolves nicely in the water.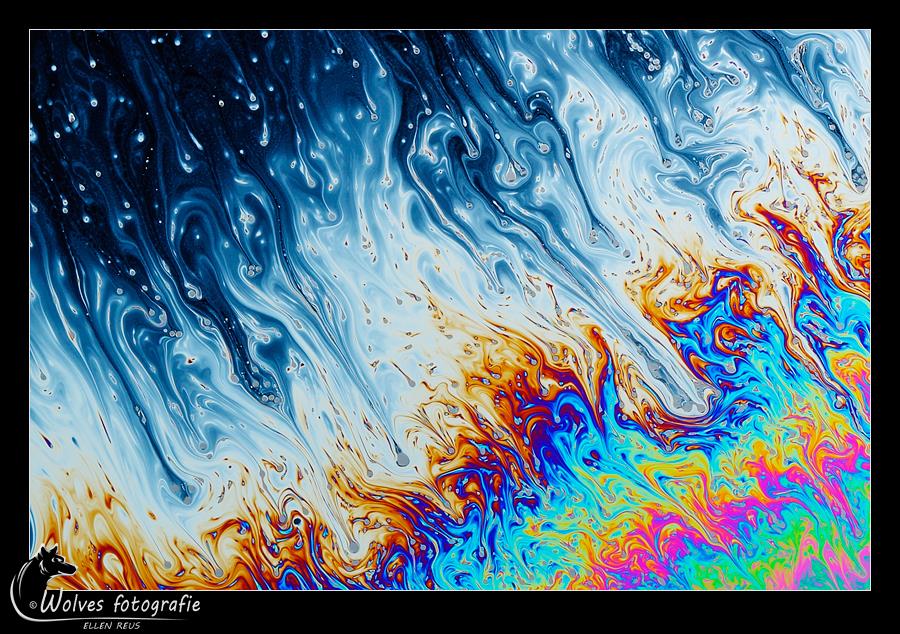 3. Build your setup
You will need a black background. You place this over your table and make it stand up in the back. Ik you have a background tripod then this is easily done, if you don't then you'll have to be a little more creative…

Right across your black background, you place your white paper standing up and make a hole in it big enough to fit your lens through. Between the white paper and the black background, you will be hanging your framework. You can do this by attaching two pieces of rope to your framework.

Attach one of your ropes to the upper left corner and one to the upper right corner. If you were to use only one piece of rope, your framework would be turning and you wouldn't get good results. Attach the two ropes to the reflector holder which is secured on the lamp stand, or think of a more creative way to hang your framework.

Point your two flashes to your white paper, so your soap film is only exposed indirectly.


Setup sketch
I have made a simple sketch of the setup: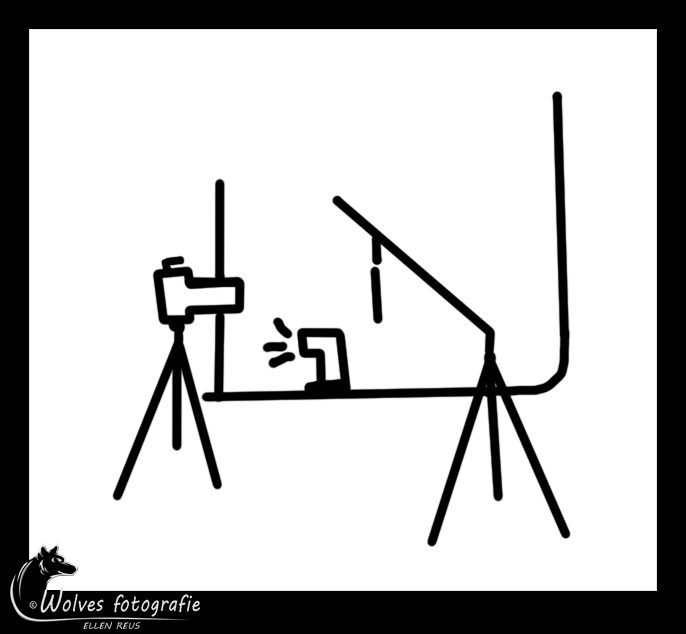 Settings
Both your camera and your flashes need to have the right settings to get good results.
You can best put your camera on manual mode. You can set your ISO to 100 – 200, to avoid noise in your images. Your shutter speed should be 1/60 at the maximum, but I always shoot at 1/125. Your aperture can be somewhere between f/11 – f/16, so you have enough depth of field despite the short distance to your subject.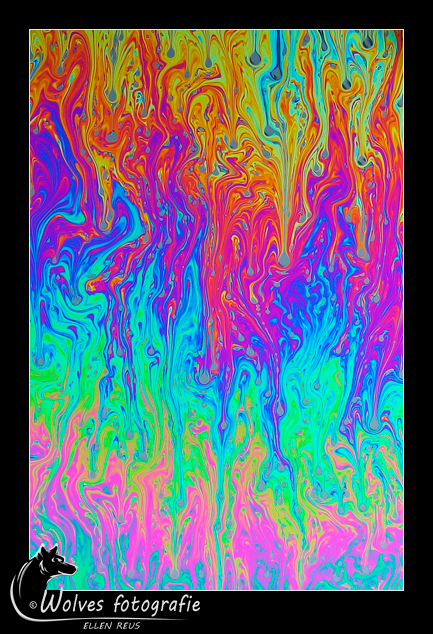 You can set your flashes to manual mode as well. They don't have to fire at full power, 1/4 – 1/8 of the maximum power is fine. On the one hand this increases battery life, on the other hand it ensures a shorter reload time in between two flash fires.

Always be prepared to alter these settings if it enhances your images!


Focus
When you've created your soap film, it will only live for a short amount of time. If you would have to focus during this time, there's a good chance your soap film is already gone before you've focused well enough. Especially since autofocus is not that great in focusing on the soap film itself.

It's best to focus on your framework beforehand and then set your camera to manual focus. And only after you have finished doing this, you dip your framework into the soapy water so the soap film arises and you can start shooting!



Good luck and have fun creating your own soap film images!


About the author
Ellen is a professional photographer who is specialized in animal photography. Ellen takes great passion in providing several photography workshops in the form of workshops, courses, private lessons and photography trips. Of course she's also still engaged in photography with much joy.
There are no comments on this article.
Be the first to share your insights!
Share your insights
Please note:
Articles older than a week can only be commented on by registered users.
Do you want to leave your insights?
Register
for free.
Elja Trum
Photofacts; everything photography!
Would you like to be able to take better pictures? Photofacts writes about photography and on how to become a better photographer daily. From quick usefull tips to reviews and more...
More about Photofacts